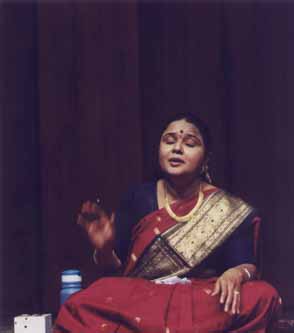 THE PROFILE OF GAYATRI SANAKARAN!!!!!
GAYATRI SANKAR, B.A., P.G. Dip. in Music (Kalakshetra)
Staff Artist, All India Radio, Chennai
(VOCALIST / VIOLINIST)
(Disciple of Padmasri Lalgudi Sri G. Jayaraman)

ARTISTE PROFILE

GAYATRI SANKAR is a Visually Handicapped prodigy and showed extraordinary talents in music right from her young age. She imbibed musical genius from her mother who was also a talented Carnatic Musician. She had early lessons in music under the tutelage of her mother and late under Allamaraju Someswara Rao and started giving performances even at the age of eight. In the early period she covered mostly Sabha's in Andhra Pradesh which included noted Sabha's like.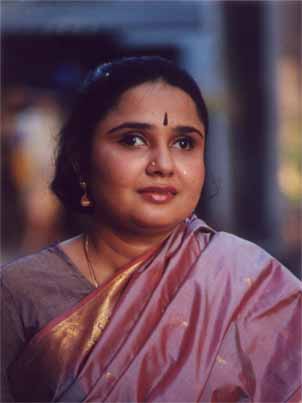 1. Tamil Music Academy Tenali
2. Lectures Sath Sangam Warangal
3. Suriya Kala Mandir Kakinada
4. Visakhapatinam Vijayawada & Nellore

CLICK HERE TO SEE HER REVIEWS
WHEN SHE WAS 11 YEARS OLD

The melody of this young artist very much impressed by Smt. Rukmanidevi and she was absorbed in Kalakshetra for further grooming. Here, she was moulded with a versatile musician under the direct guidance of musical vetrans like Pudukkodu Sri S.Krishnamoorthy, Sri. M.D. Ramanathan, Sri Vairamangalam Lakshmi Narayanan. She came out in flying colours both in Diploma and Post Graduate Diploma Courses in Kalashetra.

Gayatri had a flair the melody and rythemic style of music of Padmasri Lalgudi Sri G. Jayaraman. The quintessence of Lalgudi style which is characterised by pristine purity, lucidity, superbclarity, melody above all the deep emphasis on Sahithya attracted her very much. A long cherished ambition got fulfilled, when Sri Lalgudi Jayaraman has taken her as his devoted disciple and she blossomed as a versatile musician under his able guidance.

She started her music carrier as a staff Artist in All India Radio, Chennai since 1988 ("A" Grade Artist in Carnatic Music and "B" High in Light Music).

She has been giving performance right from her early age in Doordarshan programmes and now as a fulfledged musician. She has given performances in several private channels, etc.

She has been giving impressive performance in most of the music Sabhas all over India, which includes are :

Karthik Fine Arts, Saraswathi, Suswara, Kapali Fine Arts, Academy of Indian Fine Arts and Music, Nungambakkam Fine Arts, Adilakshmi Arts Academy, Nadopasana, Indian Fine Arts, Gana Sudha, Sathguru Sangeetha Samajam, Vidhyatheertha Foundation, Sri Sakthi Vinayagar Temple, IIT Music Club, Irai Pani Maram, Nanganallur Sathguru Sangeetha Sabha, TTD, Chennai. Thiagaraj Sabha, AP, Swathi Thirunal Sangeetha Sabha, Trivandrum, Trichy Fine Arts, Ravindra Bharathi, Hyderabad, Sri Seetharama Bhaktha Samajam, Salaiyur. The Fine Arts Society, Mumbai, Shanmughananda Fine Arts, Mumbai, Gana Kala Nilayam, Mumbai, Naadalaya, Mumbai, National Centre for the performing Arts, Mumbai and Poona Sangeetha Sabha, Poona, Bhartia Vidya Bhavan, Sri Krishna Gana Sabha, Sri Sakthi Vinayagar Temple, Kalakrithi, Chennai, etc.

CLICK HERE & HAVE A PEEP OF MORE REVIEWS CONCERNING HER

She rendered musical concerts in several religious centres for various festival programmes like Sri Ramanavami at Mayavaram, Salaiyur, Sri Anandha Vinayagar Temple, Sri Prasanna Kothandaswamy Baktha Jana Sangh, Sri Iyappa Mandali, Chennai and Sri Thiagaraja Aradhana Festival at Thiruvaiyaru etc.

At Music Academy, she gave a unqiue music performance for the Dance Programme of the Clarke School for Deaf and Dumb School Childrens where the performing children could not hear her music but follow her lip movement only and she cannot see them, but follow them by their footstep only. But the coordination was so well that everyone applauded including Governor of Tamil Nadu.

VIOLINIST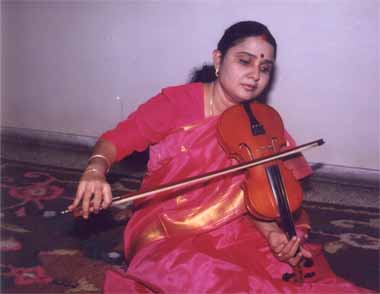 CLICK HERE TO SEE HER REVIEWS IN
NEWSPAPERS & MAGAZINES

Gayatri had a flair to learn Violin from ery her young age and she had her initiation in playing Violin from Sri. Pakkala Ramados and started playing Violin as an accompanist for few musicians. Now, she is undergoing training from the Vetran Violinist Padmashri Lalgudi G. Jayaraman. She has given few Sabhas like Music Academy Spirit of Youth.

AWARDS

The Sur Singer Samsath, Mumbai the titled "SURMANI" for the impressive performance she rendered.

The Lionees of South Chennai awarded the title "ISAI CHUDAR" for her meritoriums performances.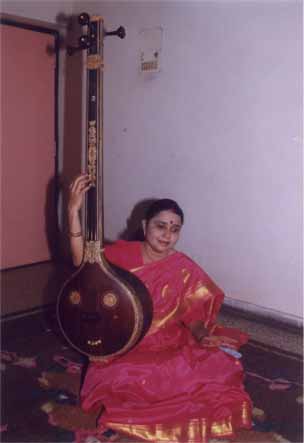 Res : A/G4, Mahaveer Apts., 4, East Coast Road, Thiruvanmiyur, Chennai - 600 041.
Tamil Nadu, India, Ph : 091-44-4415043/4929848, Email-gayatrisankar@usa.net /
raghavendra_raghavendra@hotmail.com
gayatri sankaran
gayatrisankar@usa.net